*** SUPPORT ARTISTS AND MUSICIANS DURING COVID-19! *** For example by buying albums. Mine and other artists´ CD:s are available at www.bengans.se. If you want to support me directly and get my latest album (signed if you want) for 20 euro including shipment click here. You can pay easy and safe by card or PayPal account. (Within EU only, don´t forget to write your adress.) Thanks and STAY SAFE!
VÄLKOMMEN & WELCOME!
---
"Mathias Algotsson visade återigen vilken makalös pianist och kompositör han är." – Karlskoga Tidning
"Algotsson är en fena på att fånga lyssnaren med medryckande, alternativt stämningsfull, harmonik." – Kulturbloggen
"Algotsson delivers seven compositions and proves once more he´s a composer of dignity". -Tidningen Sju
"Algotsson has a great gift for melody" -All about Jazz
"En pianoelegant med stark låtskrivarförmåga" -Sydsvenskan
---
Sollentuna kommuns stora kulturpris 2019 går till Mathias Algotsson Mer info finns här: https://www.sollentuna.se/sv/nyheter–press/nyhet-uppleva–gora/jazzstjarna-far-sollentuna-kommuns-stora-kulturpris/
Nedan finns ett Youtubeklipp från inspelningen av albumet "Home at Work Again". // Below a video from the making of the latest album with Mathias Algotsson Quartet, released in February 2019.
Here´s some videos from my and Svante Henryson´s duo concert at Konserthuset in Stockholm in september 2016!

My piece "Time Is" for choir is now available at Gehrmans! For choir with soloist and piano or a capella, commissioned by Gustaf Sjökvists Chamber Choir 2016 with Margareta Bengtson as soloist.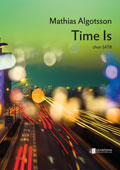 Köp skivor på Bengans.se eller Slingan Musik!